Dad's 1927 Oakland two door Sedan



The Oakland was a brand of automobile manufactured between 1907 1909 by the Oakland Motor Car Company of Pontiac, Michigan and between 1909 and 1931 by the Oakland Motors Division of General Motors Corporation. Oakland's principle founder was Edward P. Murphy, who sold half the company to GM in January 1909; when Murphy died in the summer of 1909, GM acquired the remaining rights to Oakland. The 1927 Oakland All-American Six sedan was a moderately priced, mass-produced luxury car. Its fine body work, luxury accessories, and styling accents distinguished it from lower-priced sedans. These features reflected middle-class motorists' desire for greater sophistication and General Motors' focus on the sales appeal of artistically designed, comfortable, closed-body cars. In the 1920s, General Motors introduced a marketing strategy that featured many makes and models with graduated prices and levels of quality. This strategy enticed motorists to "step up" to the next level of price and luxury when their means allowed. Oakland was placed between Oldsmobile and Buick in price, quality, and body details. GM discontinued the Oakland line in 1931, during the Depression, because of declining sales and the popularity of other GM cars, including one of Oakland's own products, the Pontiac


The photos below were scanned from some old negatives that my Mom and Dad had in a shoe box. Below my Dad talks to me about the photos in detail.
Photos from the 1960's.



One of Dad's race cars " Droopy " named after the cartoon character.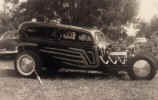 The race car is a 1934 Ford Tudor, chopped and channeled with a Olds Rocket 88 V eight engine. Notice that the V8 only had three exhaust port outlets on each head. It originally had six carbs when we traded for it but we took off the two center ones because we thought it was getting too much fuel but later discovered the carbs were not adjusted correctly and used all six. The carbs are Stromberg 97's. The car also had a few different paint jobs and modifications over the period of time we had it. The 34 Ford was classified in the "A" gas class in the early sixties when we were racing it. If I remember we were in the low 10's at 126 MPH. in quarter mile. Dad was racing cars about the same time I was born, back in the 1960's. When I was a teenager I remember Dad telling me that one of the places he use to race was in Kissimmee Florida at the old airport. Don Garlits and a few other well known drivers use to race at the same airport. Dad eventually had to give up the racing, couldn't afford it with trying to raise three kids.
The convertible is a 1940 Ford. Sure wish I had kept it. The model A is a 1930 I believe. Wish I had it again. The motorcycle is either a Ducatti 250cc, made in Italy or a Jawa 250cc, made in Czehs Republiks around the 1960's time period. The dog is a stray that took up with us and we called him Lobo. Don't know what ever happened to him. One day he just up and disappeared. That's your aunt Elizabeth with your two older brothers Benny and Larry.



This was my older brothers (Benny Davis) car 1930 Model A Coupe. I believe it had the standard 4 cylinder flathead for a engine. He wanted to make a street rod out of it. That is also Benny on the three wheeler. We built the three wheeler from two old Cushman Eagle scooters and the engine was a Honda 50cc automatic. It had no clutch all you did was back off on the throttle and shift. Direct chain drive with no differential. A little hard to turn at times.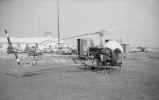 This is a actual photo of one the helicopters that my Dad worked on when he was in the service.