Sandow 4hp, Serial # 3352







Owner: Loren Etter from Minnesota. Original equipment including the paint and the clutch pulley option.


______________________________________________________________________________________

Serial # 2983



Mark McClenathan & his son from Rockford, Illinois are the proud owners of this Sandow.
Engine appears to have all it's original equipment and paint. Probably a 2.5 or 3hp.


_____________________________________________________________________________________________

Serial # 2189


DMCSC Sandow 8hp owned by Valan Vopat from Ellsworth, Kansas. This engine was up for auction on Ebay September 20th 2008. Serial number located on brass engine tag.

___________________________________________________________________________________________

Serial # 2205

DMCSC Sandow 12hp twin cylinder owner Greg Berry from Bedford Indiana.
As you can see Greg is in the middle of restoring the engine.
I look forward to seeing more photos as the restoration continues.
Owner: John Davis from St. Cloud, Florida.















DMCSC Sandow 18hp Twin with a 5-1/4 bore by 5 inch stroke, 22 inch Diameter flywheels & weighs in at 677 lbs. Restoration has started, The two fuel feeders have been completely rebuilt including new cork floats. Water injectors have also been rebuilt even though I don't plan on injecting water in to the cylinders. Engine had been hand painted red with a brush.






Work done as of May 11th, 2008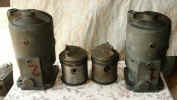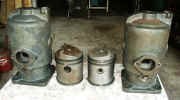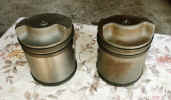 Sand blasting done, Crank case has some porosity & casting slag normal for these old engines. Crankshaft has been ground & new centrifugal lubrication ring disk machined for lower con rod journals. All new Babbitt bearings poured for the mains & lower con rods. Cylinders have been bored & new Clevite cast iron sleeves installed. Pistons grooves faced & resized with new rings. New wrist pins & bushings for piston & upper con rods. This engine had been worked very hard in its time most everything was worn out. However it will be better then new when my Dad and I get finished with it. More photos to come soon.



All the main parts of the engine have been rebuilt and assembled. The engine turns over really smooth & easy. A lot of attention was put into the alignment & machining of the main bearings also the alignment & machining of the connecting rod bearings.

We are now working on the governor linkage for the air intake. New valve guides were made for the air intake manifold and valve stems were trued. The brass air intake valve lift regulator on top of the manifold had to have the center hole bushed & the pin trued. A new brass governor lever shoe had to be made the old one was worn out. Governor linkage appears to have one incorrect clevis & a few worn out holes & pins that need to be fixed also. The governor linkage & the mechanical parts on the air intake manifold must all work smooth and fairly easy in order for the engine to run correct.



Photos taken June 26, 2008



These photos were taken after we reworked the air intake governor linkage. The tie rod type ball
joints are not original but they work excellent look good and make the linkage work so much easier

Photos taken July 05, 2008



Before and after photos of the mechanical lubricator.
Manufactured by Detroit Lubricator Company.




Photos taken Feb 22, 2009

I just finished machining and reproducing the muffler for the Detroit 18hp twin. I would have liked to have had an original Detroit muffler but they are more difficult to find then the engines. This is pretty much an exact copy of the original Detroit muffler including all the internal baffles & parts.


Photos taken June 18, 2009




___________________________________________________________________________-
Kenneth Fish from New York reproduced the galvanized sheet metal water tank & fuel tank. As you can see Ken does excellent work.
Photos taken August 09, 2009







Above are a few parts that I reproduced on my lathe and mill. Governor time collar with phenolic ring and contact. The old governor time collar had a cracked keyway and appeared to be broached on a angle. Brass part is the governor lever shoe. The old one was worn half into. I also reproduced the timer lever arm, the old lever was just a rod with a wooden handle someone put on it.




Detroit buzz coils reproduced by John Regan (

piewagon@gmail.com).


I received the tanks on August 06, 2009 with no problems.
________________________________________

The engine is now complete, January - 2010, YouTube video.



______________________________________________________






Owner Gary Conrad from Marengo Iowa. Owner unknown

These two photos were taken by Peter & Rita Forbes' Engine Webpages at the 2007 Portland Show. The engines are missing there brass name tags. The only indication that they might be DMCSC engines is the green paint. I'm fairly sure that the engine on the left is not a Middleditch engine. Both engines have the early two peice Peterson Automatic fuel feeder injectors manufactured Ben J. Middleditch . The engine on the left is being run by propane through the fuel reservoir.



DMCSC Sandow 2.5 hp, Owner: Paul Frassier. Article in Gas Engine Magazine Dec/Jan 2007 issue.
Photo donated by Steve Barr.












Owners: Ray and Claudia Shreffler from Pennsylvania.
DMCSC Sandow 4hp manufactured by Detroit Motor Car Supply Co.
This engine has all it's original equipment: Cooling tank with top cover, gas tank and stand, muffler and name tag.
Notice the optional pulley attachment for the flywheel side of the engine in the last photo setting on the skid.


This photo was donated by Peter & Rita Forbes' Engine Webpages. Taken at Portland Show 2005.
I'm not sure who the owner is, this engine should have a one piece fuel injector.
___________________________________________________________________________________________




DMCSC (Sandow) 8hp (Late model) This engine is in need of a fuel injector & double drip oiler.
If anyone can help with the missing items please contact the owner
Mike Dupuy, 1353 hwy 453 Marksville, Louisiana 71351.
Email: Skippydup50@aol.com Ph: 318-305-3977


___________________________________________________________________________________________
DMCSC (Sandow) 8 hp with late model governor system. This engine should have fuel injection and water injection system. A couple drops of water into the cylinder at each power stroke kept the engine from knocking when using kerosene. Owner: Danny Shields from Owingsville Kentucky. Danny is missing a few parts on the engine like the fuel feeder/injector, water/injector, drip oilers, can style muffler. The scan above from a original Sandow catalog shows what the missing items would look like. If anyone can help with finding these parts so this engine can come to life once again please e-mail us at : mazak@rocketmail.com
This is another one of Danny's engines he acquired a Sandow 2.5 notice it has the early model one piece injector and has the original cast iron tank platform and tank. Very factory original engine except for the muffler. Serial # stamped on top of cylinder.






DMCSC Sandow 2.5 hp Stationary engine, early model.
Owner: Roger DiRuscio from Fremont, Ca San Francisco bay area.


Owner: Frank K. Jr from Hamburg PA.
DMCSC Sandow 2.5 hp stationary engine. Notice the primer cup on the side of the fuel reservoir. This was a feature that DMCSC did on some of their later models so you could fill the fuel reservoir with gas when first starting the engine and not have to remove the cap every time. They also put filler valve on the acorn nut on top of the reservoir. I've only seen this feature on DMCSC Sandow engines and literature.
Nick Bettivey with his Sandow Stationary or Marine engine?
Sandow 2.5 hp Owner: Dave Clark in the Missouri Ozarks





DMCSC Sandow 2.5 hp Stationary engine & Generator. Owner: Tom Schoolcraft from Petroleum West Virginia Very nice original Gen Set, Tom we would like to see photos of it when you finish restoring. Engine was sold.
Who is the new owner?
Serial # Q-20












DMCSC Sandow 2.5hp Hopper cooled engine. Owner John Davis from Saint Cloud Florida.


Serial # Q-163







DMCSC Sandow 2.5 hp hopper cooled engine. Owner: Joe Mosley from Omaha Nebraska.

_____________________________________________________________________________________________
Owner & restorer: Heller Davis Serial # Q-516




DMCSC Sandow 2.5hp hopper cooled engine. Serial number stamped on face of flywheel.

Restoration photos below.
The fuel reservoir-injector, air-intake valve & muffler were reproduced.
Serial # Q-533







This 2.5hp DMCSC Sandow was at the Jan & Feb 2008 Florida FlyWheelers show.
Owner: Blane Clarida from Rockford Illinois. Engine purchased in Canada.


Serial # Q-556



DMCSC Sandow 2.5 hp hopper cooled engine.
Owner: James Scott from AbbotsFord British Columbia, Canada.
_____________________________________________________________________________________________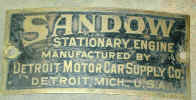 DMCSC Sandow 2.5 hp hopper cooled engine.
Owner & Photographer William Schaller from Minnesota.
_____________________________________________________________________________________________


Serial # Q-611




DMCSC Sandow 2.5 hp hopper cooled engine.
Owner: unkown, photo taken at Metamora Indiana 2007.
This is the original muffler for this engine they are very difficult to find.



DMCSC Sandow 2.5 hp hopper cooled engines.
The two Photos on the left were taken by Steve Barr
Steve's Engine Shanty same engine at two different shows. Sandwich Early Day Engine Club Show - Sandwich, IL - 2007 and the Franklin Grove, IL 2008. I do not know who the owners of the two Sandows in the photos on the right.

DMCSC Sandow 2.5 hp. Owner: Bill Winkler.
These two photos were taken by Travis Benner at Jason Dahm's Halloween show in Belgium Wisconsin. Nice original looking engine.
____________________________________________________________________________________________________________________
DMCSC Sandow 2.5hp Stationary hopper cooled engine.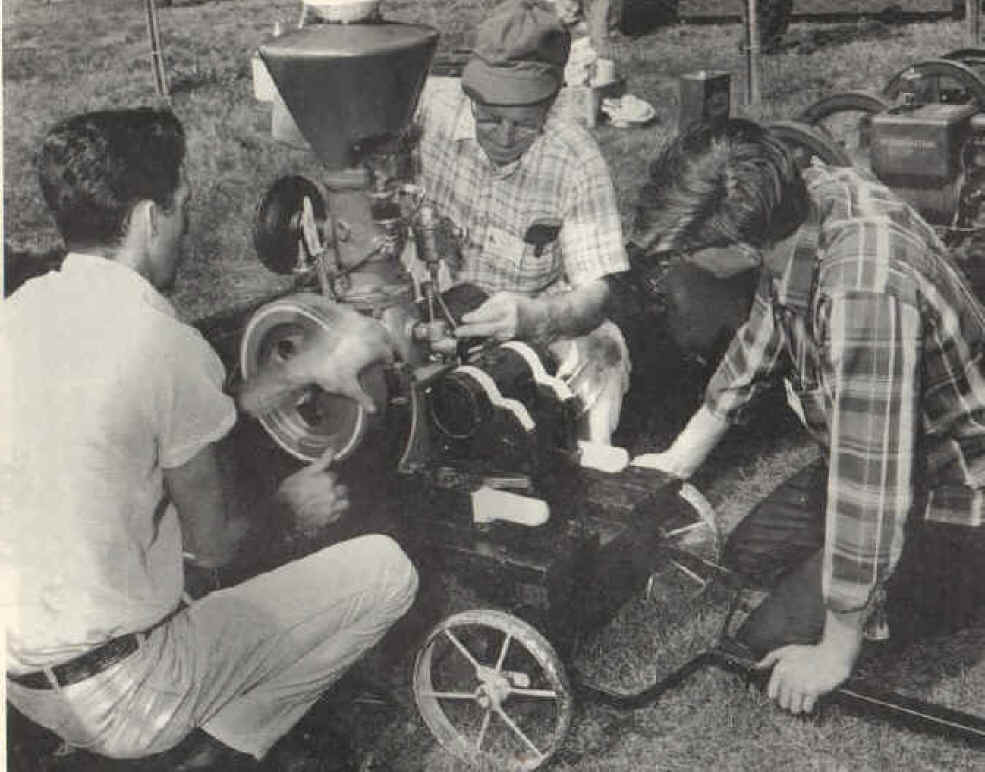 The photo above was scanned from a December 1966 Engineers and Engines Magazine.
In 1913 Detroit Motor Car Supply Company built their vertical two cycle stationary engines in size's 1.5, 2.5, 4, 6, 7.5-8, 9-10, 11-12, 13-15, 16-18, 18.5-20 horse power. The 1.5 hp engine was a single cylinder single flywheel tank cooled engine. There were 2.5, 4 & 6 hp engines with single cylinder single flywheel hopper cooled with a round tapered hopper bolted to the top of the head and cylinder. Sandow stationary Single cylinder tank cooled engines with two flywheels came in sizes 2.5, 4, 6, 8 horse power. Sandow twin cylinder tank cooled engines with two flywheels were built in 12 & 18 horse power.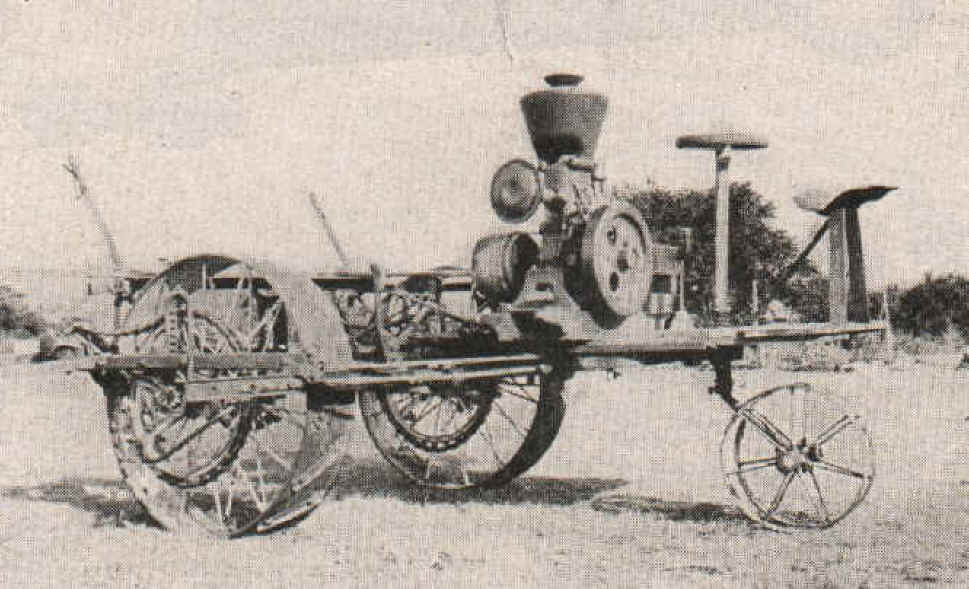 Home built tractor with a DMCS Sandow hopper cooled engine. The DMCS catalogs shows that these hopper cooled engines were built in sizes 2.5, 4, 6 hp. The engine above appears to be a 4 or 6 hp.
Menu
mazak@rocketmail.com